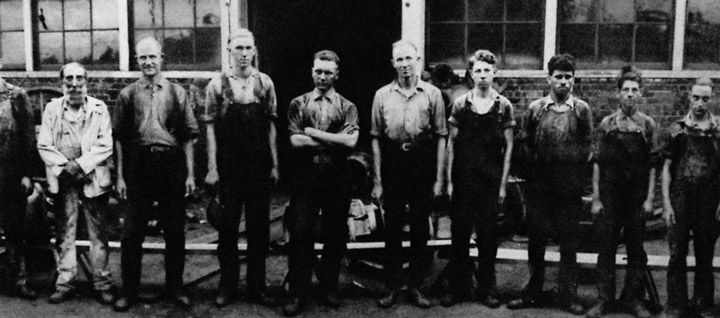 Company History
The history of McWane traces its roots to the ingenuity of a family who lived in the Blue Ridge Mountains of Virginia. Charles Phillip (C.P.) McWane entered the foundry business in 1871. His sons, Henry and James Ransom (J.R.), managed various parts of the family business.
We may not be able to solve all of our problems overnight, but if we all make up our minds, we are going to do the right from day to day as we are given to see the right, everything will work out satisfactorily in the end.

J. R. McWane, Founder
In 1903, J. R. McWane settled in Birmingham, Ala., and began a modest foundry enterprise, shifting to a coke and coal business when the foundry business faltered.
In 1904, Henry McWane set up a subsidiary, McWane Pipe Works, to make cast iron pipe and fittings. It was a promising line of business.
In 1908, J. R. McWane joined the American Cast Iron Pipe Company, rising to president by 1915, and establishing innovations in the industry along with worker welfare initiatives. He not only grew the business, but also became known as a leader in employee relations.
In 1921, McWane left and began another new venture, the McWane Cast Iron Pipe Company. As America grew, so did the need to supply flourishing cities with clean water and to remove waste safely. As a result, McWane was able to grow his business. He expanded operations from Birmingham to include a second facility in Provo, Utah, in 1926 called the Pacific States Cast Iron Pipe Company.
After his death in 1933, his son William (Bill) McWane became president. He remained focused on maintaining the two foundries through the good and bad times of the 1930s and World War II. In 1962, McWane expanded by acquiring Empire Coke Company, a manufacturer of foundry coke and by-products for foundries and other industrial operations.
In 1971, William McWane's son James (Jim) Ransom McWane, became president of McWane Cast Iron Pipe Company. In 1975, he served as chairman and chief executive officer for McWane, Inc.
In 1975, McWane purchased Atlantic States Cast Iron Pipe Company of Phillipsburg, N.J., preserving American jobs in the process. The company next diversified by acquiring the Union Foundry Company, an Anniston, AL, waterworks fittings business.
During the 1980s, McWane added M&H Valve Company and acquired Clow Water Systems Company andClow Valve Company. Kennedy Valve Company of Elmira, N.Y., was added in 1988. Subsequently, McWane strengthened its global commitment by establishing McWane International, which markets all McWane products worldwide.
McWane entered the Canadian market in 1989 with the acquisition of Canada Pipe Company in Hamilton, Ontario. Following entry into Canada, McWane expanded its manufacturing further by establishing Clow Canada in 1990, consolidating manufacturing operations in St. Johns, New Brunswick.
In 1995, McWane acquired Tyler Pipe & Coupling in Texas. The company also purchased a couplings operation in California, now known as Anaco. During the late 1990s, McWane acquired the Bibby Companies through Canada Pipe, Tennessee-based Manchester Tank & Equipment Company, Brunner Manufacturing, and Amerex Corporation of Trussville, AL, to the company.
In 2008, Janus Fire Systems, based out of Crown Point, IN, joined McWane as a division of Amerex. Also that year, McWane Polesdeveloped a new product for the electric utility industry, and that product is ductile iron utility poles.
Then, in 2012, McWane began their diversification strategy into technology by adding Synapse Wireless to their portfolio of companies. Additional technology additions to McWane include ComTech Korea, a mobile communications service provider based in Seoul,Futurecom, an Ontario-based RF coverage extension solutions, Nighthawk, a leading provider for wireless smart grid solutions.  In 2014, McWane acquired UK-based  Zinwave, a global company which has pioneered a new approach for reliable multi-service in-building wireless coverage.
In 2015, the McWane ductile iron pipe companies (Pacific States Cast Iron Pipe Company, Atlantic States Cast Iron Pipe Company, and Clow Water Systems Company) unified under the brand McWane Ductile. The plants are now referred to as McWane Ductile - New Jersey, McWane Ductile - Ohio, and McWane Ductile - Utah.

McWane opened its first manufacturing plant in Abu Dhabi in October of 2015 known as McWane Gulf. Waterman, a leader in the valve manufacturing industry, joined the McWane Valve & Hydrant Group in 2018.  
Today, McWane, Inc. is led by Chairman Phillip McWane.
The company manufactures products in more than 25 plants throughout North America and the world.
As a family-run company, McWane believes strongly in preserving and contributing to the communities in which its facilities operate. In addition to saving thousands of American jobs and contributing millions of tax dollars to the U.S. economy, McWane has invested significantly in meeting and improving its performance in safety and environmental excellence.
While looking forward to the future, McWane takes pride in its past, certain in the knowledge that an industry so important to our nation's history remains a vital part of America's future.